Ok, well it is Mommy Day (hi mom!) and I decided to fix up my Mom's cake in an awesome way.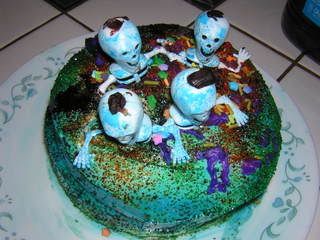 Everything in this cake represents something.
The different colors of sprinkles: the different moods we all feel between each other (hate, love, etc.)
The Star sprinkles: because you are a star of a mom!
The skeletons: unfortunately you have to deal with Dad, Chris, Tori and I
The brown stuff coming out of their heads: the crud inside our heads that blocks out our reasonings to obey your every word
The black ooze: the crud we all give you every day
And finally the blue cake: the skeletons (us) would be lost in a horrible blue sea called the world without you
Thanks Mom for putting up with us! We love you (I love you more!)! And thanks to all Moms! Have a great day guys, you deserve it!

_________________


The crazy people are the smartest and wisest, for they think out of conventional thinking (ergo they are crazy).





LEARN IT, LIVE IT, LOVE IT.